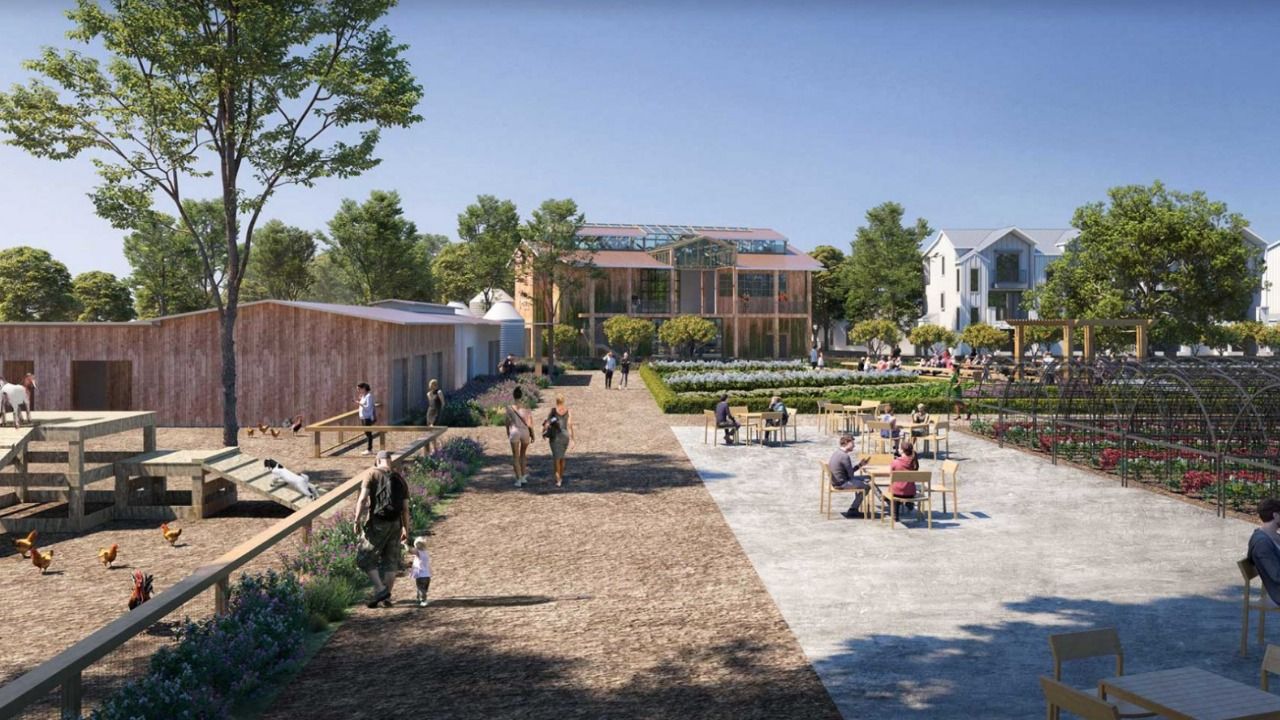 What is Wellness Real Estate and Why Should Realtors Care?
Sep 09, 2023
For the last 20 years, forward-thinking developers around the country have been building communities intentionally designed to support healthier living. This means so much more than simply adding a pool or community center! These developers have made it their mission to create neighborhoods that bring and connect people together by they implement features that enable more walking and biking and promote activity, social connection and access to healthier food. They often include a central element like an organic farm, a makers mark building or restaurant that residents can walk to. Homes are designed more to be more efficient and generally more open for easy entertaining or multigenerational living. Learn more about this development trend HERE.
Wellness Real Estate has nearly doubled since 2018 and as of November 2021 is worth $275 Billion dollars globally. As of 2023, the wellness real estate market size is to grow by USD 575.9 billion from 2022 to 2027; increasing demand for regenerative living to be an emerging trend - Technavio


Why should agents care about wellness real estate?

Well, not only is wellness trending in practically every business sector, consumers are demanding it. According to a study done in April 2021 by McKInsey & Co, 79% of people consider wellness to be important, and 42% of those people consider it to be a top priority. This number will continue to grow steadily and rapidly as more and more people continue to strive toward ways of healthier living.
And here's the deal. Even if wellness real estate grows to be a $850 Billlion dollar industry by 2027 as mentioned above, the fact is there there are exponentially more existing homes than new wellness lifestyle communities. And don't you think EVERYONE deserves to live in a healthy home? My thoughts exactly.

This incredible growth of a brand new sector is a HUGE opportunity to help your clients in a new way. It is really quite simple too. All you need to do is to expand your knowledge and network to include healthy home professionals. Promote them and what they do, and in doing so you will be learning more about ways to create a healthier home. And then strive to simply be the connector you already are...... but a better one. Because now you are infusing your passion for healthier living with your business to help your clients live more comfortably and joyfully in their homes.

No longer will you be the agent who is chasing after leads or trying to identify which of your prospects is thinking of selling soon before you reach out. Instead you can be a value-driven professional who offers education and connection to bring your community together. How amazing is that?

Future-Proof Your Real Estate Business
Future-proof your real estate business by positioning yourself as the connector for everything home. This means expanding your network to include healthy home professionals who can help guide your clients to creating a home that is more comfortable and joyful to live in. Imagine if you had a client who's child suffers from asthema or who has a chronic health condition. Knowing someone who specializes in testing indoor air quality could be a great resource that you could recommend. Taking this further you could reach out to this professional and offer to share what they do with your audience. Perhaps you host a small educational event for your favorite VIPs or write a blog post sharing the importance of knowing your indoor air quality especially if you have any health conditions. What a valuable resource you become if you are the connector for everything home!

Contrary to popular belief, simply staying top-of-mind is not what brings in leads, just like custom-branded junk mail does nothing for your business. Being a client-focused professional who provides consistent value and helps clients solve problems is what will grow your referrals and create raving fans.
Leveraging wellness in real estate to grow your brand is easier than you think!
Align yourself with a brand that educates today's health-conscious consumers and become a valuable and trusted resource for them. Here at HealthyHOME™ Media we have a network of wellness-focused agents and healthy home professionals that you can join. We have done-for-you marketing tools in print and digital formats that can be custom-branded to you and enable you to easily add more value to what you bring to the table. Learn more at www.healthyhomemedia.com
I recently wrote a book on Wellness Real Estate for agents:
If you are open to reading it and leaving an honest review, you can download it HERE for free. Thank you!
Photo is from a new wellness lifestyle community being developed in Encinitas, CA by Nolen Communities. Photo credit: Nolen Communities
Learn more about Wellness Real Estate and how you can start engaging your audience with real estate related topics that is easy as copy & paste!
Learn More